The AvMap EKP-IV brings situational awareness to the next level in a portable moving map GPS. Featuring a new, more compact unit profile with an even LARGER and more brilliant color, sunlight-viewable LCD display. AvMap EKP-IV...redefining portable GPS moving map systems.
FEATURES:

• STILL the largest screen (7" diagonal)
• Compact, sleek design (4.75" W x 7"L x 1.5"H)
• Internal 12 channel GPS
• Operates on aircraft 12v power supply
• Internal batteries for emergency use - up to 1.5 hours
• Jeppesen® NavData for the US, Canada, Central and South America
• Full flight planning capability (10 flight plans of up to 100 legs each)
• Full or Split HSI screens with data fields
• Vertical navigation routing
• Calculator functions: fuel, winds, timers, trip computer
• Aircraft checklists
• Full simulator functions
• Data storage on Compact Flash cards
• Integration with other onboard navigator systems: autopilot, GPS, external antenna
• Kneeboard design with R-A-M® and fixed mounting options

EKP-IV SPECIFICATIONS:

• Processor: Samsung® Arm9 226 MHz
• Dimensions (4.75" W x 7"L x 1.5"H)
• Weight: 1.2 lbs
• Screen Display: 7" diagonal
• Screen Resolution: 800x480 pixels
• Screen Brightness:400 nits
• Data Storage: Compact Flash
• Full or Split HSI screens with data fields
• Mapping/NavData:Aeronautical: Jeppesen®
• Land: TeleAtlas®
• Marine: C-MAP® NT+
• Power:
• Aircraft: 12v supply
• Batteries: 6AA NiMH rechargeable
• Interface: Serial Port USB
• Antenna:
• Active: 3 -5v DC
• Dimensions: 3" diameter; 5 meter cable *optional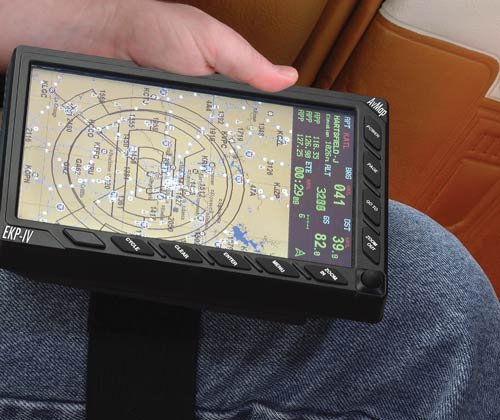 Knee-board design with R-A-M and fixed mounting options.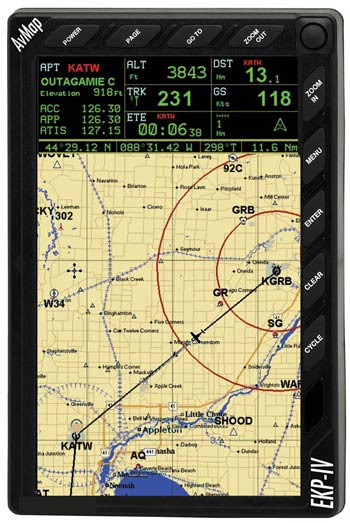 $ Click Buy Now For Price $

KEY FUNCTIONS:
Data Fields: Monitors data related to the current flight. User can choose several screen options and preset data fields based on mode of flight. Options include: interim and final destination; waypoint/airport info; distance; ETE; ETA; bearing; cross-track error; GPS info; as well as vertical navigation, fuel consumption, A-B function and timers.
Power: Brightness & contrast control, power on/off unit.
Page: Displays 'Nearest' functions to include: Airports; VORs; NDBs; Intersections; ARTCC and FSS frequencies; Points of Information (POIs).
GoTo: Allows direct 'GoTo' to any of the following: Cursor location, Airports, VORs, NDBs, Intersections and User Waypoints.
Cursor Contol: Provides ful range of panning capability, as well as auto info on map and NavData.
Menu: Easy access to all navigation and mapping functions.
Cycle: Function allows user to scroll between three pre-set data screens.